Ukraine-Russia war – live: Putin at risk of 'revolution' after Belgorod raid, Wagner chief claims
'We need to prepare for an arduous war,' Russian mercenary group leader warns
By Arpan Rai,Maryam Zakir-Hussain
The leader of Russian mercenary group Wagner has claimed that Vladimir Putin could face a revolution similar to those of 1917 and lose the war in Ukraine unless the elite got serious about fighting the war.
Ukraine is preparing a counter-offensive aimed at pushing Russian troops back to the borders of before 2014 when Russia annexed Crimea, Yevgeny Prigozhin said. Ukraine would try to encircle Bakhmut and attack Crimea, he added.
"Most likely of all, this scenario will not be good for Russia so we need to prepare for an arduous war," he said in an interview posted on his Telegram channel.
Russia's elite, he said, protected their own children from fighting the war while the children of ordinary Russians perished on the front, a situation he said that could trigger turmoil in Russia.
If ordinary Russians continued getting their children back in zinc coffins while the children of the elite sunned themselves abroad, he said, Russia would face turmoil along the lines of the 1917 revolutions which ushered in a civil war.
Russia shuts Swedish consulate, expels diplomats in tit-for-tat move
Russia said on Thursday it would shut Sweden's consulate in St Petersburg and its own mission in Sweden's second-biggest city Gothenburg, and expelled five Swedish diplomats in a tit-for-tat move after Stockholm expelled five Russians last month.
Stockholm said last month it had expelled the diplomats over espionage concerns. The Russian Foreign Ministry called the expulsions an "openly hostile step".
It said it had withdrawn its consent for the Swedish consulate in St Petersburg from September.
Swedish Foreign Minister Tobias Billstrom said in a statement the news was "very regrettable" and "further confirmation of the negative political development in Russia and the country's international isolation".
"Russia has chosen to expel Swedish diplomats who acted within the framework of the Vienna Convention and conducted customary diplomatic activities in Russia. We also deeply regret the Russian announcement about the Consulate General in St Petersburg," he said.
Relations between the two countries have worsened since Sweden last year announced its intention to join NATO following Russia's invasion of Ukraine. The Russian statement said ties had "reached an unprecedented low".
Maryam Zakir-Hussain25 May 2023 11:08
Russia signs deal to deploy tactical nuclear weapons in Belarus, says they stay under its control
Russia and Belarus signed a deal on Thursday to formalise the deployment of Russian tactical nuclear missiles on Belarusian territory, a step Moscow said was driven by rising tensions with the West.
"In the context of an extremely sharp escalation of threats on the western borders of Russia and Belarus, a decision was made to take countermeasures in the military-nuclear sphere," TASS news agency quoted Russian Defence Minister Sergei Shoigu as saying.
The deployment of the missiles was first announced by President Vladimir Putin in March. Since invading Ukraine last year, Putin has said repeatedly that Russia would be ready to use nuclear weapons if needed to defend its "territorial integrity".
NATO said at the time it did not see any need to adjust its own nuclear posture, though it said Putin's nuclear rhetoric was "dangerous and irresponsible".
Ukraine said Russia's ally Belarus had been "taken hostage" by Moscow.
Moscow will retain control over the weapons and any decisions on their use, Shoigu said.
TASS quoted him as saying that Iskander-M missiles, which can carry conventional or nuclear warheads, had been handed to the Belarusian armed forces, and some Su-25 aircraft had been converted for the possible use of nuclear weapons.
"Belarusian servicemen have received the necessary training in Russian training centres," Shoigu was quoted as saying.
He added that the agreements signed with his Belarusian counterpart covered the procedure for establishing a "special storage facility for nuclear weapons on Belarusian territory."
Tactical nuclear weapons refer to lower-yield weapons designed for battlefield use, as opposed to strategic ones capable of wiping out entire cities. Russia has not disclosed how many tactical nuclear weapons it has.
Maryam Zakir-Hussain25 May 2023 10:34
Russia's Wagner starts withdrawing units from Bakhmut
Russia's Wagner mercenary group has started withdrawing its forces from the Ukrainian city of Bakhmut and transferring its positions there to regular Russian troops, its founder Yevgeny Prigozhin said in a video published on Thursday.
"We are withdrawing the units from Bakhmut. From today at five in the morning, May 25 until June 1, most of the units will rebase to camps in the rear. We are handing our positions to the military," he said.
The video was posted on Telegram by his press service, and showed Prigozhin dressed in battle gear and standing beside a war-damaged residential block.
Prigozhin announced the capture of Bakhmut on Saturday after the longest and bloodiest battle of the war.
In the latest video Prigozhin, who has repeatedly voiced public criticism of senior Russian defence officials, said his forces would be ready to return to Bakhmut if the regular army was unable to manage the situation.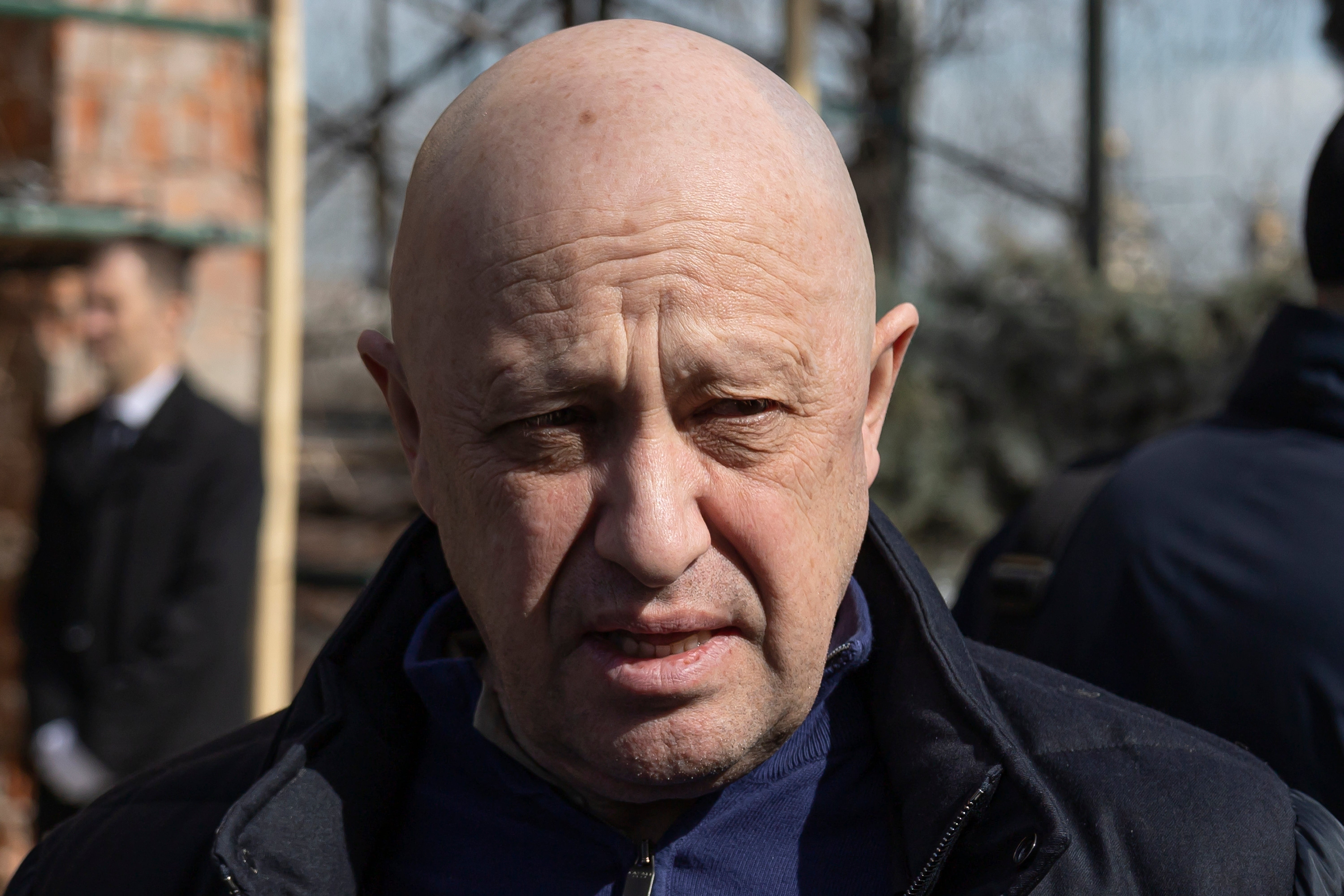 Maryam Zakir-Hussain
Source THE INDEPENDENT.