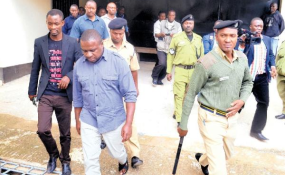 By The Citizen Reporter
Mbeya — It was a moment of joy when Mbeya Urban MP Joseph Mbilinyi 'Sugu' and Southern Highland Zone Secretary of Chadema Mr. Emmanuel Masonga were finally home this morning. The two were serving a sentence since February for uttering 'bad words' against President John Magufuli at a political rally.
Although initially it was expected that Chadema national chairman, Mr Freeman Mbowe and other party leaders would collect them at Ruanda prison, the two were released 'quietly'.
Their wives, Happy Msonge (Mr Mbilinyi's wife) and Grace Mallya (Mr Masonga 's wife) were dressed in jeans and similar light blue T-Shirts, written "Free Sugu and Masonga" of the front and "Stand for democracy" on the back.
Narrating the ordeal, Mr Mbiinyi said that they didn't know that they were bing released today until this morning. They were simply told to get ready and leave, at around 7a.m.
Chadema national chairman, Mr Freeman Mbowe and other party leaders also arrived at Mr Mbilinyi's residence where they held talks. Earlier, Mr Mbowe who arrived at 6:45a.m. at Ruanda prison, said that the first thing Mr Mbilinyi will do once out is head to Mbeya Referral Hospital to see his mother who has been admitted for three weeks. Her ailment was triggered following her son's unjust imprisonment, Mr Mbowe said.
Thereafter, they were to proceed to Chadema Nyasa Zonal office, in Forest ward, near Kadege bus stand where they will speak to party leaders and address wananchi. Mr Mbowe had explained that they would have then proceed to Mr Mbilinyi's residence through Mafiati road, passing through Mwanjelwa, Kabwe, Soweto, Ilomba and finally Sai.
However, while they were still at Ruanda prison, they were informed that the two men were already on their way home.