Rwanda, Barbados to tap into pharmaceutical production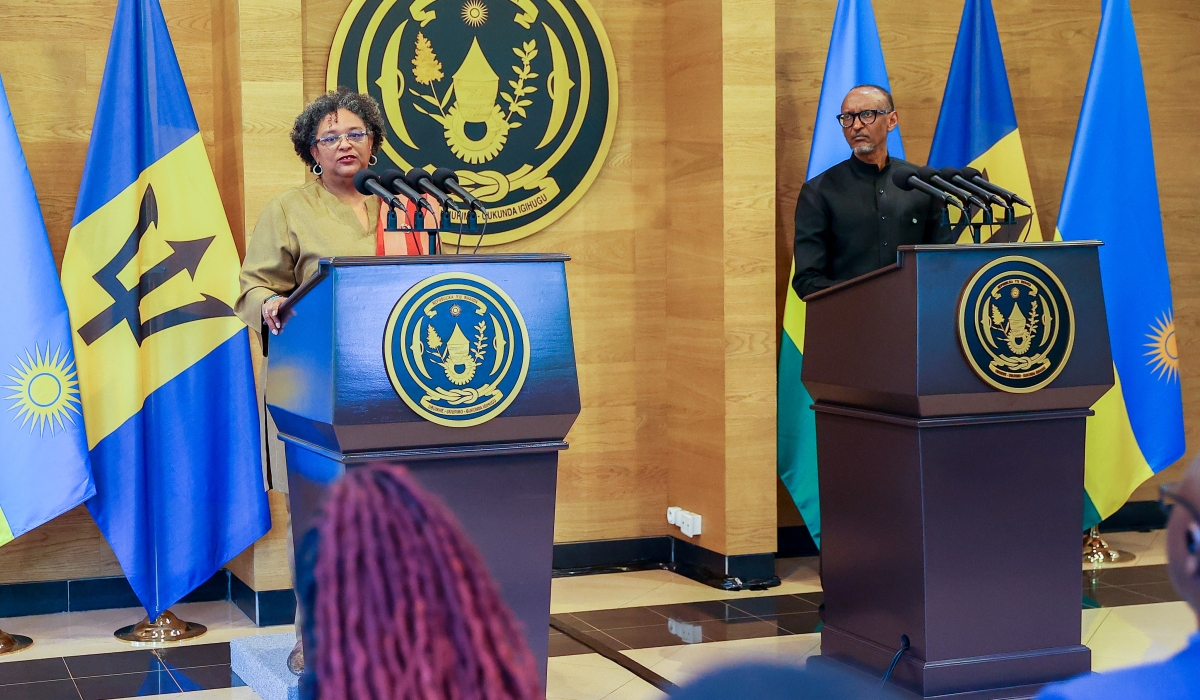 President Paul Kagame and Prime Minister of Barbados Mia Amor Motley during a joint news conference at Village Urugwiro on Thursday, November 10. Photo by Olivier Mugwiza
By Edwin Ashimwe
President Paul Kagame, on Thursday, November 10, hailed the bilateral relations between Rwanda and Barbados, after he received Prime Minister Mia Amor Motley for discussions aimed at further deepening existing ties.
Prime Minister Motley is in the country for a three-day state visit.
During a press briefing after holding a tête-à-tête meeting, Kagame said that both leaders had witnessed the signing of two agreements in the areas of sports and bilateral air services.
He also recognised that the visit of Motley and her delegation will add to the already strong partnership that both countries share across a range of sectors.
"Our relationship runs deeper than this. We are both small countries with a big vision to elevate the standard and quality of our people," he said.
For instance, the head of state pointed out that the pandemic reminded the world that economic prosperity means nothing without putting health at the centre.
Prime Minister Mia Amor Motley addresses the media during a joint news breifing. Photo by Olivier Mugwiza
"And so, one area where we have found to cooperate productively is pharmaceutical manufacturing. This is a complex industry but it is indeed possible for countries like ours to be part of it, thanks to new technologies and partners," said President Kagame.
Rwanda is set to be a permanent home to one of Africa's vaccine manufacturing plants using the mRNA technology.
Construction kicked off mid this year and the plant is set to be operational in the next 18 months.
"The important thing is to share knowledge and cooperate with partners and we intend to do just that. We are also sharing experiences in creating digital and technology enabled jobs for our young people, and adapting to climate change," Kagame added.
Game changer
Commenting on the partnership, Prime Minister Motley said that pharmaceutical equity is a game changer for "us all".
She added that the partnership will result in a significant boost in Barbados' technology and sciences sector.
"I make this point every other day. Barbados has produced 6,000 graduates in the area of science from the Cave Hill Campus of the University of the West Indies here in the last five years. And while there is absolute mobility in teaching, we recognise that that is not the only purpose that people would want to use a science degree, and therefore we have a solemn obligation to being able to build a platform for biotechnology, ICT, science and technology generally," said PM Mia Motley.
Just recently, Motley said that she joined President Kagame and other world leaders to launch the global pharmaceuticals cooperation initiative.
"The advance work that Rwanda has done with respect to the regulatory framework for pharmaceuticals is what we are really working with to establish our own framework in Barbados."
She also said that, while it was not an easy process, President Kagame is willing to share the practice with her country.
"That allows us to do for the Caribbean and Latin America what Rwanda is doing for the continent," she added.
Meanwhile, she echoed similar sentiments citing that there is reason for going back to what transpired with the vaccine 'apartheid' during the Covid-19 pandemic.
"But it is not only vaccines that we are looking at, it is the mRNA technology that will allow us also to deal with oncology. Cancer is one of the biggest killers in our world today, and regrettably many of the modern drugs that the north Atlantic countries have access to, our people do not have access to," she said.
Motley went on to say that, "We want to change that. This is work that is very much in the process of happening. We are very much happy and confident with where we are going on this matter."