Ander Herrera's winner sent Manchester United into a record-equalling 20th FA Cup final and condemned Tottenham to their eighth successive defeat at this stage of the competition.
Spurs started at a ferocious pace and fully deserved the early lead they took after only 11 minutes when Dele Alli slid home a finish from Christian Eriksen's cross after Davinson Sanchez's long pass opened up Manchester United's defence.
Jose Mourinho's side survived the siege and levelled on 24 minutes, Wembley specialist Alexis Sanchez rising to direct an athletic header across Spurs keeper Michel Vorm from Paul Pogba's perfect cross for his eighth goal in eight appearances at the stadium.
Eric Dier's deflected shot hit the post on the stroke of half-time but Spurs had lost vital momentum and Herrera's crisp low finish just after the hour set up an FA Cup final date for United with Chelsea or Southampton on 19 May.
It left Spurs suffering more FA Cup semi-final pain and with a losing sequence stretching back to their win in the last four against Arsenal here in 1991 – and Pochettino still without a trophy after four seasons at the club.
How the players rated
Podcast: Man Utd into FA Cup final, Sunderland relegated
Man Utd v Tottenham: How you rated the players
Analysis: 'Tottenham will be accused of choking until they prove otherwise'
Mourinho's Manchester United show true grit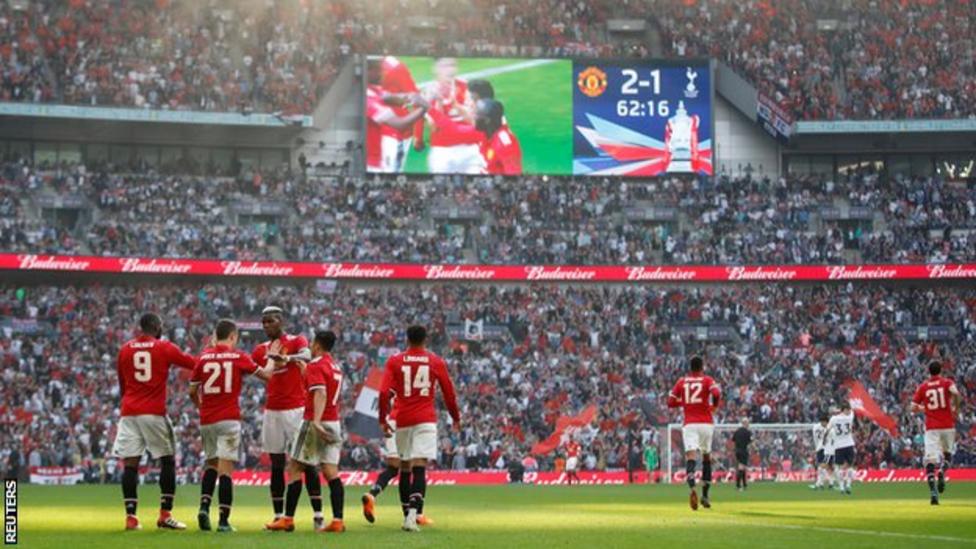 United have now reached their 29th major domestic cup final, more than any other side in English football
Manchester United's style has been criticised on a number of levels this season – but the character and resilience in Jose Mourinho's side is beyond question.
In recent weeks alone, they have come from behind to beat Chelsea at Old Trafford then recovered from 2-0 deficits to win at Crystal Palace and, most notably, at Premier League champions Manchester City.
And they needed to call on all those reserves in the face of an opening salvo from Spurs that was fierce in its intensity and pressing, as well as bringing that opening goal from Dele Alli.
United held on, with moments of good fortune, and grasped the lifeline that came with a cheap concession of possession from Spurs, a perfect cross from Paul Pogba and an athletic header from Sanchez to beat Michel Vorm in the 24th minute.
Spurs were still left cursing their luck when Eric Dier's shot deflected off Chris Smalling to hit the foot of the post – and when ruthlessness and a clinical edge was required it was United who provided it.
It came courtesy of Ander Herrera's low finish and gave United an advantage they never seriously looked like relinquishing.
Mourinho, now on course for another trophy after lifting the League Cup and Europa League in his first season at Manchester United last term, prides himself on his ability to inject the strengths winners require into his players.
And his Manchester United players showed that at Wembley.
Tottenham's curse strikes aga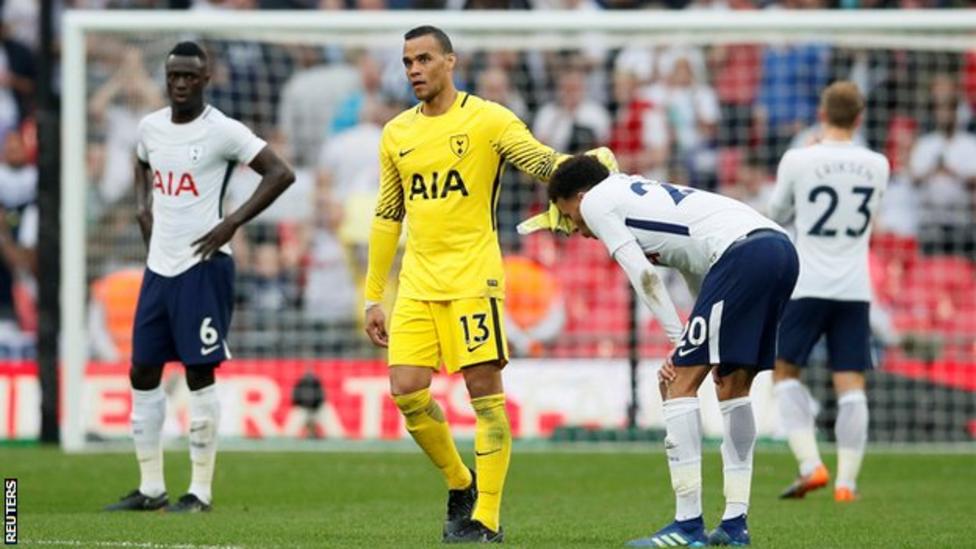 Tottenham have not won an FA Cup semi-final since 1991
Tottenham must wonder when they will ever win another FA Cup semi-final – or indeed be rewarded with a trophy for all the obvious fine work manager Mauricio Pochettino has done.
This was their eighth successive FA Cup semi-final defeat, the longest sequence of losses in the history of the competition and stretching back to the victory over Arsenal at the old Wembley in 1991.
And as expectations rise and Pochettino's side progresses, so those losses get more painful and this will feel as bad as any others coming after the way they also lost here to Chelsea 12 months ago.
The usual "Spursy" argument will be made – the team that somehow never gets across the line – and there will come a point when this undoubtedly talented side must back up the bouquets it gets with actual trophies, the true currency of success.
Pochettino's side flew out of the blocks but simply could not put United away and there was an air of desperation and frustration about their work once Herrera put Mourinho's side in front and time started to ebb away.
Questions must also be asked of Pochettino's decision to persist with Michel Vorm in goal and keep first-choice Hugo Lloris on the bench. It is harsh to place defeat solely at Vorm's door but he certainly could have done better with Herrera's winner.
Harry Kane could not find his usual sure touch and Son Heung-min, superb this season, had one of those days when nothing went right.
The wait goes on without a trophy for both Spurs and Pochettino, who has now had four full seasons at the club.
It is something they must change soon to shed the tag of the team that always falters with the finishing line in sight.
Sanchez finally makes his mark.
Sanchez levels for Man Utd
Alexis Sanchez has struggled to make a serious impact since his January switch from Arsenal to Manchester United – but the Chilean showed perfect timing to demonstrate his class on the Wembley stage he loves.
When he showed great strength and athleticism to direct Pogba's cross back across Vorm for that vital equaliser, it was Sanchez's eighth goal for club and country at Wembley in eight appearances.
Sanchez is also still on course for a third FA Cup win, having won the trophy twice previously at Arsenal, scoring in victorious finals against Aston Villa and Chelsea.
Here, this was Sanchez at his best – busy, dangerous, revelling in the fight and making the crucial contribution that has become his Wembley trademark.
Eyebrows were raised when Mourinho ignored the pace of Anthony Martial and Marcus Rashford in his starting line-up – but he was rewarded with the industry of Jesse Lingard, Romelu Lukaku and Sanchez – with the latter delivering a man-of-the-match performance.
Man of the match – Alexis Sanchez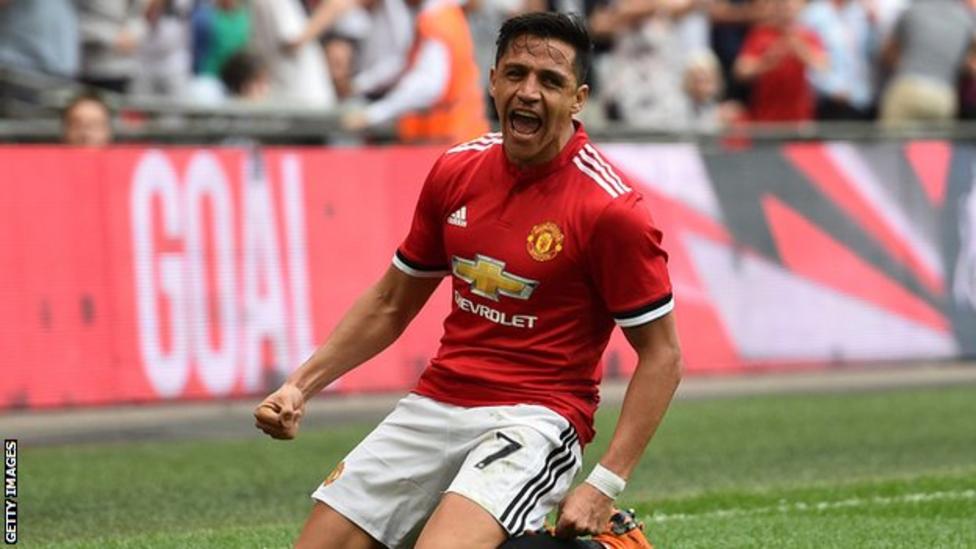 Alexis Sanchez has scored eight goals in his eight appearances at Wembley for club and country, including six goals in five FA Cup matches
What they said – manager reaction
Manchester United manager Jose Mourinho, speaking to BBC Sport:"We deserve it. If we split the match into periods we were the best team for many of these periods. Even when they had the ball when we were winning we were totally in control.
"We lost control after the 1-0. At half-time we spoke – we came back late for the second half because we spoke a lot – and organised ourselves.
"We should ask ourselves why there are too many critics on all of us? We can finish second [in the Premier League] by getting six points. To do that with all the fantastic teams we play against will be an achievement for a club that couldn't do it for a few years now.
"And it will be a fourth final in three years. So, maybe too much criticism."
Tottenham boss Mauricio Pochettino, speaking to BBC Sport:"I think every defeat is bad. It's difficult to accept but of course we are disappointed we are out and cannot achieve the final.
"We competed but not enough to win. We dominated the first half and were much better than Manchester United.
"United defended very well and so deep. We are disappointed because we are so close. We need to think, move on, finish the season and try to finish in the top four.
"I think we need to understand where we have come from. It's easy to talk about winning trophies.
"To win a trophy when you face a side like Manchester United, Chelsea or Manchester City is not easy. But the most important thing is we are able to compete."
The best stats
The Red Devils have reached the FA Cup final in two of the last three seasons, having failed to reach the showpiece in eight consecutive seasons previously.
Tottenham have not lost a single Premier League game in which they have led this season, but have now been eliminated from their three other competitions this season in games in which they took the lead (2-3 v West Ham in the League Cup, 1-2 v Juventus in the Champions League).
Spurs also extended their record run of consecutive FA Cup semi-final defeats to eight, last winning one in 1991.
Romelu Lukaku has been directly involved in 14 goals in his last 12 FA Cup appearances (12 goals, two assists), including seven in five for Manchester United.
Manchester United midfielder Paul Pogba has now recorded 12 assists in all competitions this season – twice as many as he registered last season.
Christian Eriksen has had a hand in 10 goals in his last six FA Cup appearances for Spurs (three goals, seven assists).
Manchester United midfielder Ander Herrera has scored in each of his last two FA Cup games, as many as he had in his previous 15 in the competition.
Jose Mourinho has reached his sixth major domestic final in England (two FA Cup, four League Cup), winning each of his previous five.