Live: Two killed in explosion in Polish village near Ukraine border
By Euronews  with AP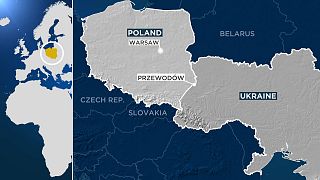 The location of Przewodów in Poland, near the border with Ukraine.   –   Copyright  Euronews
Two people died Tuesday afternoon after a projectile struck an area where grain was drying in Przewodów, a Polish village near the border with Ukraine, domestic media reported.
Polish Prime Minister Mateusz Morawiecki has called an emergency meeting of the country's top national security and defence officials due to a "crisis situation", according to government spokesman Piotr Mueller.
Follow the latest developments in our live blog below:
09:44 PM
In summary
Explosion kills two in Poland near the border with Ukraine
Pentagon official says he is unable to confirm reports the blast was due to a stray Russian missile
Poland's PM calls an urgent meeting of government committee for national security and defence affairs
Moscow rejects reports of stray Russian missiles as 'deliberate provocation'
Hungarian, Latvian PMs also call emergency government meetings
10:07 PM
Zelenskyy blames Russia for Poland deaths
In a video message Tuesday evening, Ukrainian President Volodymyr Zelenskyy slammed the Kremlin for what he said were "Russian missiles (hitting) Poland, the territory of our friendly country."
"Poland, the Baltic states… It's only a matter of time before Russian terror goes further," he remarked, adding that the alleged Russian strike on "NATO territory is … a Russian missile
attack on collective security."
Moscow has rejected all accusations that the explosion killing two near the Ukrainian border in Poland was caused by stray Russian missiles.
10:03 PM
Germany is monitoring reports about stray Russian rockets crossing into Poland, Foreign Minister Annalena Baerbock said on Tuesday evening.
"My thoughts are with Poland, our close ally and neighbour. We are monitoring the situation closely and are in contact with our Polish friends and NATO allies," she said on Twitter in English and Polish.
10:00 PM
European Council president 'shocked' by news of explosion in Poland
European Council President Charles Michel expressed his dismay over the deaths of two people from "a missile or other ammunition … on Polish territory" on Tuesday.
"My condolences to the families. We stand with Poland. I am in contact with Polish authorities, members of the European Council and other allies," Michel said on Twitter.
Latvian PM asks for emergency government meeting Wednesday morning
The Latvian government is to convene for an emergency meeting Wednesday morning, Prime Minister Krišjānis Kariņš said on Twitter.
"Tomorrow, at 10:00 am, I have called an emergency government meeting to listen to the reports of the responsible ministries and institutions on the security situation in the region and to be ready for further action," Kariņš said.
"Latvia and its NATO allies are ready for any situation to defend their citizens and territories," he added.
NATO is examining stray rockets reports, official tells Euronews
NATO — of which Poland is a member — is analysing reports claiming that the blast that killed at least two near the border with Ukraine was caused by stray Russian rockets, according to a security alliance official on Tuesday evening.
"We are looking into these reports and closely coordinating with our ally Poland," a NATO official told Euronews.
09:33 PM
NATO members Norway and Estonia await further information
Officials from Norway and Estonia — members of the NATO defence alliance — said they were trying to find out more information.
"This is a very serious incident but much remains unclear," Norwegian Foreign Minister Anniken Huitfeldt said, according to Norwegian news agency NTB.
Estonian Foreign Minister Urmas Reinsalu said, according to BNS newswire: "We are discussing with our allies how to respond to what happened jointly and decisively."
09:31 PM
Latvian defence minister expresses condolences to 'our Polish brothers in arms'
Latvian Defence Minister Artis Pabriks blamed Russia for the explosion in Poland Tuesday evening on Twitter, saying that his country "fully stands with Polish friends and condemns this crime".
There has been no information from Polish officials on the cause of the explosion in Przewodów at this time.
09:22 PM
Moscow labels stray rockets reports 'deliberate provocation'
In a statement on Telegram on Tuesday evening, the Russian Ministry of Defence rejected the possibility of its missiles striking Poland as a "deliberate provocation in order to escalate the situation."
"No strikes on targets near the Ukrainian-Polish state border were made by Russian rockets."
The images of the wreckage published by local media in Poland "has nothing to do with Russian weapons," it added.
09:13 PM
Orban's spokesman: Hungarian Defence Council convened
Hungarian Prime Minister Viktor Orban has also convened the country's Defence Council for an emergency meeting over "the missile hitting territory of Poland," according to his spokesperson Zoltan Kovacs.