By Martin Siele
A woman who interrupted Deputy President William Ruto's speech at PCEA Makongeni church in Thika, Kiambu County on November 24, 2019, opened up on tribulations she has faced since receiving Ksh50,000 from the deputy president.
Lucy Wangui approached Ruto towards the end of the church service asking for help as her 14-year-old child had been diagnosed with Rheumatic Fever and required surgery. A Ruto aide gave her Ksh50,000 in a blue envelope on the spot as the deputy president promised to ensure the child's treatment was taken care of.
Speaking to Kenyans.co.ke on Sunday, January 19, Wangui claimed that she had been defrauded of the money, physically assaulted and forcefully evicted from her house in events that followed the Sunday service.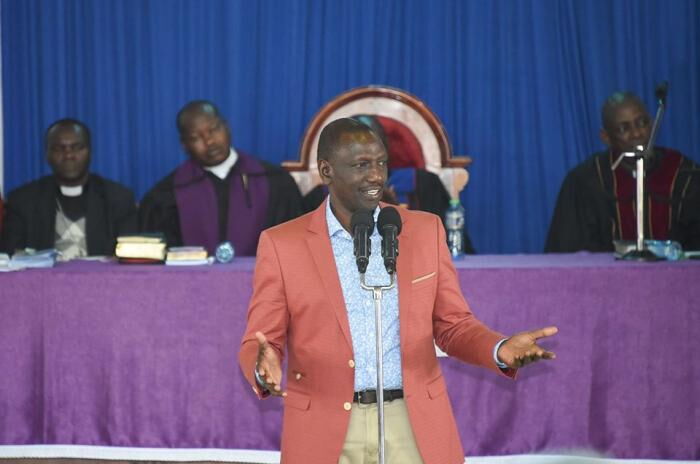 She confirmed that she filed a report at Makongeni Police Station after allegedly being assaulted and kicked out of her home on Saturday, January 18.
Wangui broke down what happened, revealing that her landlady Jane Wanjiku Nyambura whom she considered a friend asked to hold the money for her moments after the service as she was surrounded by well-wishers who gave her an additional Ksh17,000.
Wangui claimed that after repeatedly failing to return the money despite several promises, Wanjiku allegedly sent goons to Wangui's house to evict her despite having no rent arrears.
"The landlady asked to carry the money for me because everyone was following me around and I could easily lose the money. We were very good friends so I trusted her. She went with Ksh60,000 in total and I remained with Ksh7,000.
"On Tuesday last week, she was to put the money in the paybill account but she didn't. Eventually, she told me that she had used the money to pay for a certain chama and promised to pay me back on Thursday morning.
"That Thursday I was outside washing the dishes when she came on a motorbike with two men but it is like she had planned for me to be attacked. She was waiting outside when a strange man grabbed me by the neck but luckily I hit him with one of the sufurias I was washing and ran back to the house screaming, I had to hide with my child in the house. I didn't even touch the money," she stated.
Wangui claimed that her landlady on Thursday, January 16, then came with police officers and accused her of disturbing other tenants but she refused to open the door and the officers eventually left. She disclosed that she went to Makongeni Police Station after the situation calmed down.
She further claimed that on Friday, January 17, she arrived home at night with her child from a medical check-up only to find her door locked, forcing them to seek accommodation at Makongeni Shopping Center.
Wangui disclosed that corporate titan Dimal Shah had offered to take care of her child's secondary school fees and bought him books in addition to enrolling him for a National Health Insurance Fund (NHIF) cover.
On Saturday, January 18, Wangui returned to Makongeni Police Station and was assigned an officer who helped her to force open her door.
Wangui alleged that things took a turn for the worst later that Saturday when the landlady stormed her house accompanied by several men and welders.
"I saw about 9 motorbikes and hid in the house with my child. They sent welders and they cut the door open, it was so dramatic and we ran. They had no interest in putting my things outside they just wanted to get rid of me. Why didn't they kick me out with my things?
"The Nyumba Kumi chairman tried to beat me again. I told one of them, this woman wants to take the money Ruto gave me and then kick me out? Please I just want the money for my child," she asserted.
A video seen by Kenyans.co.ke shows welders outside her home slicing through the metallic door.
Source Kenyan.co.se