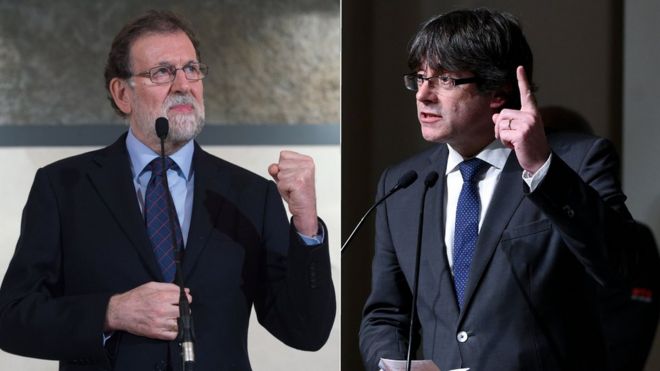 Spain's Prime Minister Mariano Rajoy has rebuffed calls by Catalonia's ousted leader, Carles Puigdemont, to meet for new talks outside the country.
Mr Rajoy said he would negotiate with whoever became the new head of the Catalan government but they would have to take up their post in Catalonia.
Mr Puigdemont earlier called for talks to take place in Brussels, where he is living in self-imposed exile.
Separatist parties won a majority in a Thursday's snap regional election.
Mr Rajoy avoided naming Mr Puigdemont during a press conference on Friday but said he was prepared to hold talks with whoever took control of the Catalan regional government "in a realistic way and inside the law".
"I offer Catalonia this because I care about the people," he said.
Mr Rajoy said the winner of Thursday's election was Inés Arrimadas, the leader of the Citizens party, which wants Catalonia to remain a semi-autonomous part of Spain.
The Citizens party is now the region's biggest party, although pro-independence parties are best placed to form a government.
"It is evident that something is broken, and it will take time to repair it," Mr Rajoy added.
Speaking in Belgium earlier on Friday, Mr Puigdemont said Catalonia wanted to be an independent state.
"This is the wish of the Catalan people," he said, adding: "I think the plan of [Spanish Prime Minister] Mariano Rajoy is not working, so we have to find new ways to tackle this crisis."
Mr Rajoy's conservative Popular Party (PP) recorded its worst ever result in Thursday's vote.
The Spanish government imposed direct rule on Catalonia and called the election after declaring an October independence referendum illegal.
What were the results?
With nearly all votes counted, the pro-independence parties Mr Puigdemont's Together for Catalonia (JxCat), the Republican Left of Catalonia (ERC) and Popular Unity (CUP) were on course to win a total of 70 seats in total, giving them a majority in the new parliament.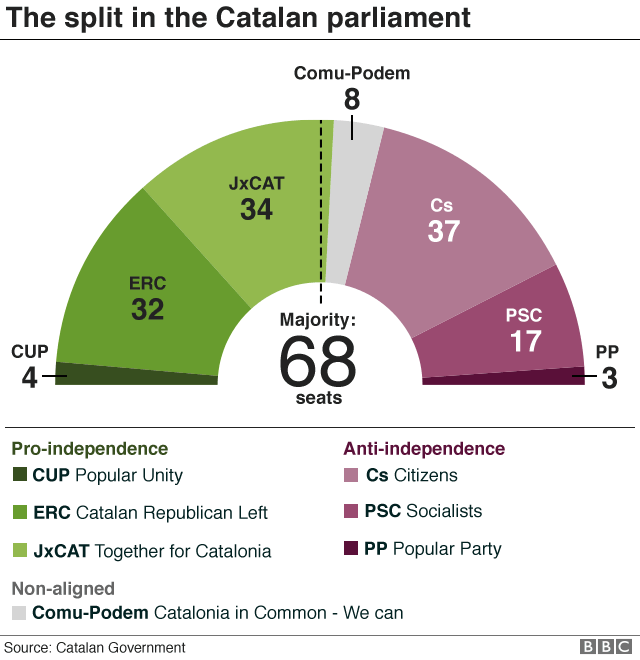 Citizens (Cs) had 25.3% of the vote, winning 37 seats in the 135-seat chamber.
Its leader told the BBC her party had been "victorious". Ms Inés Arrimadas said forming a coalition would be "difficult – but we will try".